Hawaii Superferry: It's Not About The Environment
03/23/09 12:36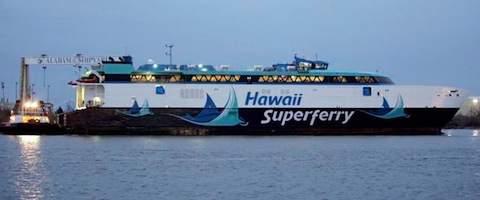 I have never written about my professional endeavors on my blog until now. However the time has come to shed some light on how legitimate environmentally friendly efforts can be hijacked by a few self-interested individuals claiming "the environment" in their name.

Hawaii Superferry is a company I founded in 2001 shortly after 9/11 grounded Hawaiis airlines for four long days. This halted Hawaii like no other place on earth because it is the world's only island archipelago solely dependent on flying. My two cofounders and I did this to bring an affordable, energy-efficient and environmentally friendly alternative for interisland travel to Hawai`i. Hawaii Superferry successfully carried around 250,000 passengers during the time it operated, only to be derailed by a lawsuit from powerful special interests like the Sierra Club after 11 months of operation.

How did this happen?
Beginning in 2005 three plaintiffs - the
Sierra Club
,
Maui Tomorrow
, and Kahului Harbor Coalition filed a succession of state and federal environmental lawsuits with prime issues being potential harm to whales, possible movement of invasive species, and an increase in neighbor island traffic.

The State of Hawaii and Hawaii Superferry won the state and federal cases, however on appeal of the state case to the Hawaii Supreme Court, that court ruled in favor of the plaintiffs and
dramatically changed Hawaii's environmental law
in 2007 to require a uniquely broad Environmental Assessment where none was required before. Hawaii Superferry followed the process and law, and stopped service until it could be legally resumed and an Environmental Impact Statement (EIS) was begun. The court later ruled that that the ferry could not operate until the EIS was completed (although the draft EIS is already done), thereby halting ferry service indefinitely in March 2009.

Let's take the lawsuit's issues one by one and add energy efficiency and sustainability plus the military conspiracy theory put forward in Jerry Mander & Koohan Paik's book The Superferry Chronicles.

The most mentioned issue is the potential for whale strikes. The case's plaintiff, Irene Bowie, Director of
Maui Tomorrow,
is a founder of the
Pacific Whale Foundation
a company that has hit endangered humpback whales. PWF is the largest whale watch company in Hawaii with 7 ships and PWF's CEO Greg Kaufman testified in the case; Yet
PWF was fined thousands of dollars in 1998 for repeatedly violating NOAA regulations
and approaching endangered humpback whales too closely, and fined thousands more in 2000 for similar violations.
In 2006 Pacific Whale Foundation struck at least one baby humpback.
That year at least
five whale strikes occurred off Maui.


The draft Environmental Impact Statement (EIS) chapter 4.2.2.4 states that Hawaii Superferry is not a threat to marine mammals because of its routes, and it's world-leading whale avoidance policies; And a fleet of interisland hydrofoils far faster than Superferry operated these routes in the 1970s with a perfect record so there is plenty of operating history in these waters.

Yet clearly whale watch vessels are hitting whales in Hawaii with alarming regularity - and
occasionally people are killed too as in this incident
off Oahu. Why? Because PWF, and all whale watch companies, are paid to take their customers as close as possible to endangered humpback whales so they can take photos. In PWF's own words, "We guarantee whale sightings."

Unlike every other type of boat or ship, whale watch operators intentionally head towards endangered whales every day in the densest whale population areas such as the "whale soup" area between Maui and Lanai. The results speak for themselves:
three strikes to endangered humpback whales have already occurred in this area in 2009
.

Perhaps the best way to improve this tragic situation is to regulate the whale watch industry better as it is on the East Coast where the regulation is 500 yards closest approach vs. Hawai'is 100 yards which is clearly not protecting Hawai`is endangered whales today.


...


The second issue is the potential spread of invasive species. The key plaintiff in the case is the Kahului Harbor Coalition, headed by Jeff Parker, owner and President of Tropical Orchid Farm in Maui. Jeff's company imports and grows exotic species' of orchids from places like Africa and sells them throughout state. In Mr. Parker's own words describing an exotic plant he has just imported from Africa "When I unwrap a newly acquired plant and see the growth habit, my imagination runs wild."

If you have seen orchids "in the wild", you have seen escapees from orchid importers like Jeff Parker that are starting to move into Hawai`is fragile ecosystem. Perhaps the importation, growth and sale of exotic plants like orchids in Hawaii should be regulated.

Invasive species are an issue for every interisland operator. Hawaii Superferry inspects vehicles, passengers and baggage more closely than any other operator and will not carry sealed containers that cannot be inspected. The draft EIS (chapter 4.2.2.1 - 3) states Superferry is a small player vs. the barge and airlines and has no significant impact to the movement invasive species. One thing we know is that the coqui frog did not get to Kauai on the ferry.

...

What about traffic that the "huge" (to use opponent's words) Hawaii Superferry might add to neighbor islands? First, to dispel a popular myth, there is no net vehicle increase on any island because (for example) when a Maui resident or visitor departs on the ferry, their car does too - to be replaced by an arriving passenger.



The "huge" Alaka`i (right) passes a typical Hawai`i-based cruise ship that carries thousands of passengers between Hawai`i's islands daily

The EIS notes (table 4-50) that in Kahului there is no measurable onload / offload traffic impact in Kahului at the hours when the ferry operates except for the one upgrade recommended to Pu`unene Ave. at Ka`ahumanu Ave which will improve traffic to a top A rating vs. traffic that rated an E – (just above bottom grade F) before the ferry started.

Why is there so little affect? Hawaii State statistics show that about 25,000 people PER DAY fly between our islands with 9,000 passengers per day flying between Maui and Honolulu. Superferry is tiny - it takes about 800 passengers per day (400 each way) between Maui and Honolulu – just 9% of those who fly. Almost all are locals and about half are Maui residents – so Superferry, contrary to rumors, is not a tourist magnet.

...

If we are talking about the environment, energy efficiency and carbon emissions must be considered.

Ferries fast or slow are far more energy-efficient than jets (especially for short trips) because they do not need to boost you six miles into the sky. Think about that for a minute – the energy required to move you (and your bags) six MILES up! Higher than Mt. Everest - about 40,000 stairs! It would take an extreme athlete to accomplish such a feat. Yet that's what we do every time we fly to a neighbor island, only to descend almost immediately.

In this specific instance, the jets used in Hawaii that can carry 120 passengers have about the same horsepower (44,000) as the ferry which can carry over 800 passengers plus fresh produce trucks, semis full of bread, delivery vans like FedEx and cars.

It's no wonder flying a jet to Maui produces about 120 pounds of CO2 greenhouse gas per 200 lb. passenger each way. The ferry produces just 20 lbs. of CO2 to move 200 lbs. in comparison. (These calculations assume the plane and ferry are full. If each is, (as more typical) about half full, the plane produces 240 lbs. of CO2 per person and the ferry 40 lbs. per person.)

As part of its commitment to the environment, HSF is also the first U.S. vessel to use the latest low-emissions engine technology and runs on low sulfur No. 2 diesel, instead of marine diesel, cutting emissions about 99% vs. most vessels.

Flying has, and will always have, a uniquely important role in Hawai`i - there is no way ferries can match the frequency of so many trips to Maui every day for example. However some people take this remarkable luxury for granted. Superferry critic and blogger Brad Parsons says he "splits his time between Maui and Kauai" contributing 480 lbs. of CO2 to our atmosphere each time he makes that connection through Honolulu. We hope that Mr. Parsons offsets his carbon footprint via CarbonFund or similar as we do.

From a sustainability perspective, everyone from small produce farmers on Maui like Anthony Arakaki to big food companies like Love's Bakery must now go back to flying. About 1 pound of CO2 per every two lbs. of produce or bread.

Unsurprisingly, the draft EIS shows Superferry has no significant impact (FONSI) to greenhouse gases.

...

Lastly, what of the military conspiracy theory put forward by authors Jerry Mander and Koohan Paik who wrote The Superferry Chronicles book?

They accuse Superferry builder Austal, the world's largest builder of fast ferries, of also building military vessels. Yet the authors have no problem flying between Hawaii's islands on jetliners built by Boeing, the world's second largest defense company. Boeing jetliners are the prototypes for many military aircraft based in Hawai`i: the KC-135 and KC-10, 767-AWACS and 737AE&WC. Boeing also builds Cruise Missiles, the F-15 and F-18 fighter jets, the AH-64 attack helicopter and the C-17 - many of which are also based in Hawai'i. But for some reason, that's not part of their story...

The authors conclude Hawaii Superferry is a vessel designed as a military prototype as driven by big investors. Nothing could be further from the truth because Superferry was specified, designed specifically for Hawai`i and the builder was contracted between 2001 and 2003 when the company consisted solely of its three founders, none with military backgrounds, and no investors.

Shipbuilder Austal won an intense competitive bid that was awarded by Hawaii Superferry before it had any significant US military contracts.

Ship specification began in 2001; the founders began research into ocean conditions, ship technology and shipbuilders. We knew interisland customers were used to flying and would not tolerate an 8 hour ferry trip which is also too slow to get fresh produce, milk and bread to market. And the expensive cabins and large room cleaning staff for such ferries would make ticket prices more expensive than flying.

The ferries must be relatively large to deal with Hawai`is ocean conditions and to take delivery trucks such as Love's Bakery and because the routes so busy. (Among the top ten busiest air lanes in the United States.) Superferry is similar in type and size to dozens of fast ferries that have operated successfully for years in Europe's many islands, the US East Coast and Alaska, in the Atlantic and Asia.

Superferry's three founders undertook numerous benchmarking trips to visit the best operators of longhaul ferry operators worldwide to evaluate best operating practices and design features. With the help of the University of Hawaii School of Ocean Science and others, we put together a comprehensive Hawai`i ocean condition study using 20 years of wave buoy and satellite data to help builders design a ferry to fit our seas.

From this, we developed a rigorous design specifically for Hawai'i including electric power plugs for refrigerator trucks, special higher car decks to accommodate canoe racks for paddlers, beautiful interiors with comfortable leather sofas and coffee tables for families, and a design that would squeeze in to Hawaii's dry docks.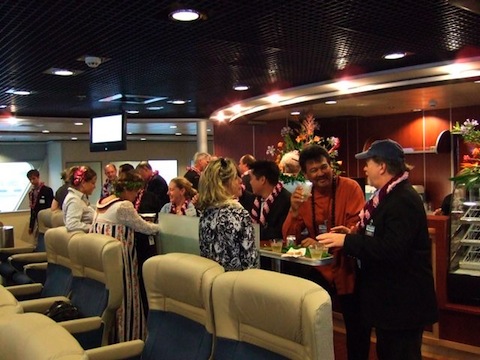 Many environmental "firsts" were designed into the ferry ranging zero wastewater discharge, non-toxic bottom paint, next-generation ultra-clean and efficient engines, special glass that reduces air conditioning energy, and nightvision technology and dedicated seats on the bridge wings for whale lookouts.

The two finalists in the competitive bid had proven designs – Incat and Austal had each built dozens of large ocean-going ferries – and we had traveled on many during our benchmarking trips. Austal won the seven-month bidder competition based upon its proven vessel design and the capabilities of its US shipyard.

...

Coda: 1,500 years ago, Polynesians discovered and traveled between these beautiful islands using the fast and efficient double-hull catamaran voyaging canoes they invented. Hundreds of years ago, sailing ships took people, food and everything from clothing to cattle between these islands.

Then for over a century until the 1950s , Wilder and Interisland Steam Navigation's big six-deck steamships carried hundreds of people, freight, construction materials, sugar and everything needed between the Hawaiian islands. Today we would call these big ships ferries.

After World War II, the old interisland ships needed replacing – but America's shipyards were backed up for years replacing the ships sunk in the war. Meanwhile nearly new surplus military transport aircraft – DC-3s could be bought for a few thousand dollars each. Interisland Steam Navigation retired its big old ships and became Hawaiian Airlines.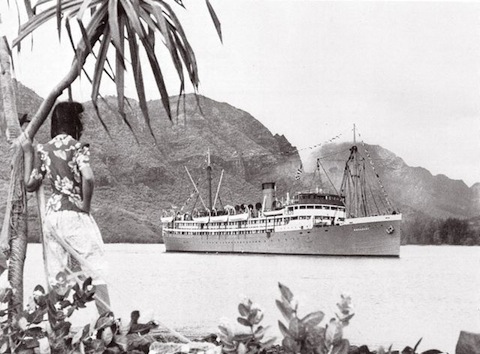 Interisland Steam Navigation's S.S. Hualalai in Nawiliwili Harbor, early 1950s

Now only the eldest of Hawaii's citizens can remember the time when interisland travel meant going by ocean.

Alakai is a catamaran – a direct descendant of the technology the Polynesians knew was the most efficient. She is smaller but faster and cleaner than the old interisland steamships but the exhilaration you get from the deck watching the sun come up behind Diamond Head as you depart Honolulu is the same as it has been for hundreds of years.

It is my hope the various parties will come together to ensure that Hawai`i can return to its great maritime tradition and this clean, efficient and needed transportation mode will sail again. Mahalo.

An abbreviated version of this article appeared in the Honolulu Advertiser on March 22, 2009.