11/29/08 14:30


OK, we admit it -
this is the coolest video we have seen in a long time
. And it's going to happen, thanks to California voters passing a $10B bond measure. The Environmental Impact Statement is complete and it's supported by the Sierra Club.

Electric high-speed trains are
five times more efficient than flying and three times better than driving.
We think the timing and technology couldn't be better...

Read More...
11/25/07 17:09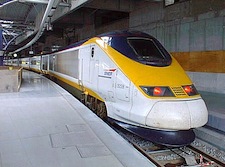 eurostar
the ultra high-speed rail link between England, Belgium & France has become the first
carbon neutral train carrier
. Eurostar claims it emits less than
1/10th as much carbon
per journey than flying and is
offsetting
the balance of its carbon emissions.


All while delivering you between London and Brussels or Paris city center to city center far faster than by air. And it's
easier, more convenient and comfortable.


We say hats-off to Eurostar for showing the world an alternative to flying and going beyond to offset its entire carbon contribution.
Book now.
Read More...
01/24/09 14:19



Unlike every other transportation mode, airliners don't pay fuel tax.

Trains pay fuel tax, cars & buses pay, ferries and ships pay, trucks pay. (So do farm tractors and construction equipment.) Airliners don't and this is neither right nor fair.

It is time to fix this now.


Free Rider...


Unlike vehicles, trains, boats and other fuel users, airlines pay no or fuel taxes virtually worldwide. In the U.S., airlines pay 8% of what other transportation methods use. They also do not pay state sales taxes while ferries and other transportation do.

This means other transportation methods subsidize airlines.


What To Do?
Read More...